Np Domain is considered the Top No.1 Domain of Nepal, you can get the Domain placed in Country Base for Free. For which you need some documents.
Friends, here you have to go to its official website to get the com .np domain for Nepal. For this, you can easily register your name and domain for any business.
How to Register Np Domain for Free
A domain is made especially for any country. Like .us .uk here we have .np in Nepal. Compared to the rank, Google gives the 1st rank to the website where it has the most searches. It means the place and the country from which the search is made. The domain is highly preferred. So many people search for an np domain here on Google.
Other Domain Provider Companies do not provide .np domains. So for this domain go to the np domain site. Friends, today I have explained here how to get an Np domain and what are the requirements for it.
Step By Step:
1. First go to .Np Domain Register Official Website- click here
2. Create Your Account (include: Name, Email, Phone Number, and Address)
3. Then You can check Your Domain Name (available or Not)

4. Then Click the Register Now Button
5. Fill up the Name server (you can see for example)
6. Then Fill in the Administrative Contact Detail: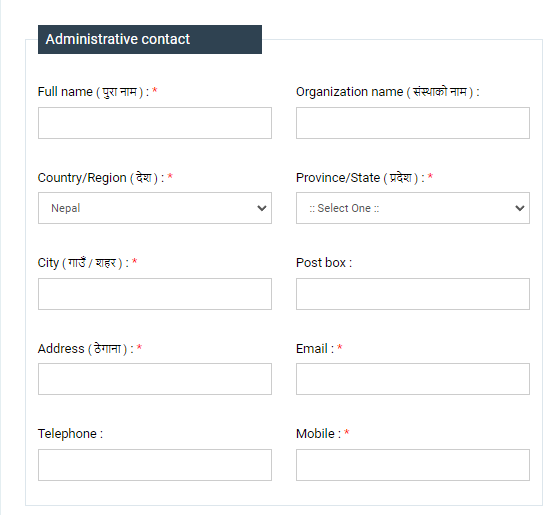 7. Upload Your Document – (Requirement)
Required document samples for company/organization domain
Copy of company registration
Cover letter
Required documents sample for personal domain
Copy of citizenship
Cover letter
Read Also: How to Generate Np Domain Cover Letter
8. Finally Click Registed Button
8. Wait a Few Days – After Your Document Matches your domain. Your Domain has been Approved.
Read Also:
conclusion: if any problem with this blog, you can contact us directly. or you can comment below.